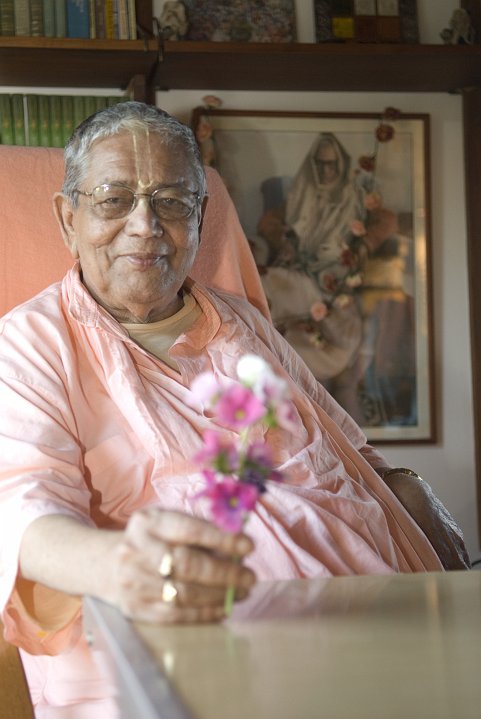 The gift of Sri Chaitanya Mahaprabhu


Download mp3 audio
no dīkṣāṁ na cha sat-kriyāṁ na cha puraścharyāṁ manāg īkṣate
mantro 'yaṁ rasanā-spṛg eva phalati śrī-kṛṣṇa-nāmātmakaḥ
(Padyāvalī: 29)
["Sri Krishna's Name does not rely upon (pancharatrik) initiation, pious works, or preparatory practices in the least; Sri Krishna's Name produces results simply by touching the tongue."]
With love and affection, and without offence, try to chant this Holy Name of Lord Kṛṣṇa. It will rescue everything—that power is with Kṛṣṇa-nām. The Lord's Name is always so auspicious and can rescue everyone. But Kṛṣṇa's Name has some speciality: He is attracting and giving His nectar. That is the speciality of Kṛṣṇa-nām. Other names of God are also so powerful and so beautiful, but Kṛṣṇa-nām is mixing with the hearts of the Kali-yuga people; it is the nearest and most extremely beautiful form of the Lord. That is Kṛṣṇa-nām.
harer nāmaiva kevalam
kalau nāsty eva nāsty eva nāsty eva gatir anyathā
There is no other alternative except Kṛṣṇa-nām. It is not necessary to do many things or anything else: only connect with Hari-nām, the transcendental divine form of the Lord. It is not my speculation, but all the scriptures have told this: in the Veda, Vedānta, Upaniṣads, eighteen Purāṇas, Mahābhārata—everywhere, even in the Āyurveda. Where is He not present? Kṛṣṇa is present everywhere.
In the Upaniṣads, that example of two birds is given: one is hearing, one is eating; one is sleeping, and another is watching. Paramātmā, who is watching, has some influence over all, and through that all the jīva-souls are getting some help. That is the special quality of Paramātmā. There is Brahma, Paramātmā, and then supremely Bhagavān.
Bhagavān means the Supreme Personality of Godhead, where we will find everything: love and affection. Śrīla Rūpa Goswāmī Prabhu says, all divine forms of God have good qualification for the jīva-souls, but Kṛṣṇa is so special. If you want to embrace Kṛṣṇa, He will be very happy with you, but other Gods are sitting in the chair, and the jīva-souls are fearful of Them. This is not the position of Kṛṣṇa.
sarvādbhuta-chamatkāra-līlā-kallola-vāridhiḥ
atulya-madhura-prema-maṇḍita-priya-maṇḍalaḥ
(Śrī Bhakti-rasāmṛta-sindhu: Dakṣiṇa-vibhāga, 141–2)
["Kṛṣṇa is like an ocean filled with waves of pastimes that evoke wonder within everyone in the three worlds. In His activities of conjugal love, He is always surrounded by His dear devotees who possess unequaled love for Him."]
Everything in connection with Kṛṣṇa is very familiar for the conditioned souls. You can feed Kṛṣṇa, you can play with Kṛṣṇa, you can chastise Kṛṣṇa, and you can give your love, affection, and everything to Kṛṣṇa, and Kṛṣṇa will always be very happy with you. That is the most palatable and suitable position for the jīva-souls.
We honour everyone and we must give our full daṇḍavat to everyone, but after that we will go to our playground and play with Kṛṣṇa in śānta-rasa, dāsya-rasa, sakhya- rasa, vātsalya-rasa, and madhura-rasa: servitorhood, friendship, parenthood, and even paramour love is possible with God. Who can believe it?
Kaṁ prati kathayitum īśe ko vā pratītim āyātu: to whom shall I tell, and who will believe? This śloka's meaning is this. Kaṁ prati kathayitum īśe: to whom shall I tell? Ko vā pratītim āyātu: who will believe that Kṛṣṇa is playing with the Vraja-gopīs in the Kuñja-līlā, and playing happily in the courtyard of Nanda Mahārāj? There is no obstacle there.
kaṁ prati kathayitum īśe samprati ko vā pratītim āyātu
go-pati-tanayā-kuñje gopa-vadhūṭī-viṭaṁ brahma
(Sri Chaitanya-charitamrta: 2.19.98)
The youthful mood of Kṛṣṇa; playing with the girls of Vraja and the Vraja-vāsīns; friendship, fatherhood, motherhood; the trees are giving palatable fruits, the cows are giving so much palatable milk—it is all a very joyful situation there with God, with the Lord. With our Divine Master it is possible, and Sri Chaitanya Mahāprabhu has given a connection to us through the Holy Name. It will reveal in our heart. We need to chant without offence, and one day we must be qualified, no doubt.
Spoken by His Divine Grace in Italy at Villa Govinda Ashram during his visit in September 2007.